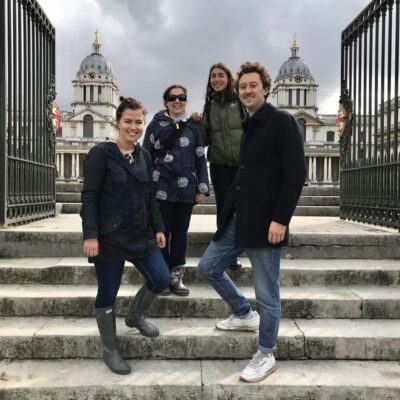 Group on A Rubbish Trip
Friends and family get-togethers
Looking for something unusual and fun to do with friends and family? Planning a winter get-together and can't face sitting around in a garden? Why not book a private group tour?!

This winter we are offering three of our tours to small groups of up to 5 people. 
• Chimneys & Tunnels along the Thames (Greenwich and Isle of Dogs) – Take a good long yomp through the remains of London's industrial landscape, discovering its history of manufacture, pollution and power.
• A Rubbish Trip (Isle of Dogs and Greenwich) – Take a trip through London's history of muck and trash, and get to know some of the most fascinating and little-known parts of the capital.
• The London Ear (City of London, Sundays only) – Listen your way through the City with extraordinary tales and playful experiments. Find out about the capital's defining Cs and B flats, why you can hear Bow Bells in Singapore and how the future might sound.
The cost is £125 per tour (November to March).
To arrange a walk, drop us a line to let us know what you're looking for and your dates, and we'll take it from there.