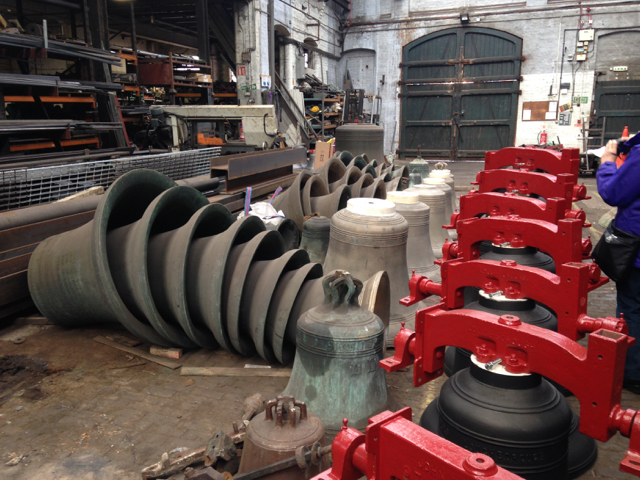 First it was Big Ben – silenced in August (see London Loses Its Voice) – now, St Paul's. So, when I led a group into the Cathedral courtyard one Sunday morning expecting them to be dazzled by the change ringing, we were greeted with … nothing.
It turns out that the bells were taken down in January. They have been returned to Loughborough foundry (pictured) where they were first cast in 1878. There, they will be cleaned and restored, and the frame will be strengthened to avoid any risk of them falling. The bells should be back in action by November. Until then, London will be bereft of another of its 'soundmarks'.
All of this has prompted a rethink of The London Ear walk. It's a tour that usually starts on a Sunday with St Paul's ringing. With those bells gone, it's a good excuse to explore the City's 'soundscape' at other times. Expect something close to opera on the weekday rush hour and lunch hour walks, with wailing sirens, rattling jack-hammers and dramatic decrescendos. The tours on Saturday 14th April and Wednesday 2nd May are a chance to track the reach of London's famous Bow Bells. Like the Sunday version, these walks will combine listening to the City now with stories of sounds from the past and reflections on how things might change in the future.
You'll find a full list of dates on our calendar.
Image: Loughborough foundry, from a visit there in March 2016