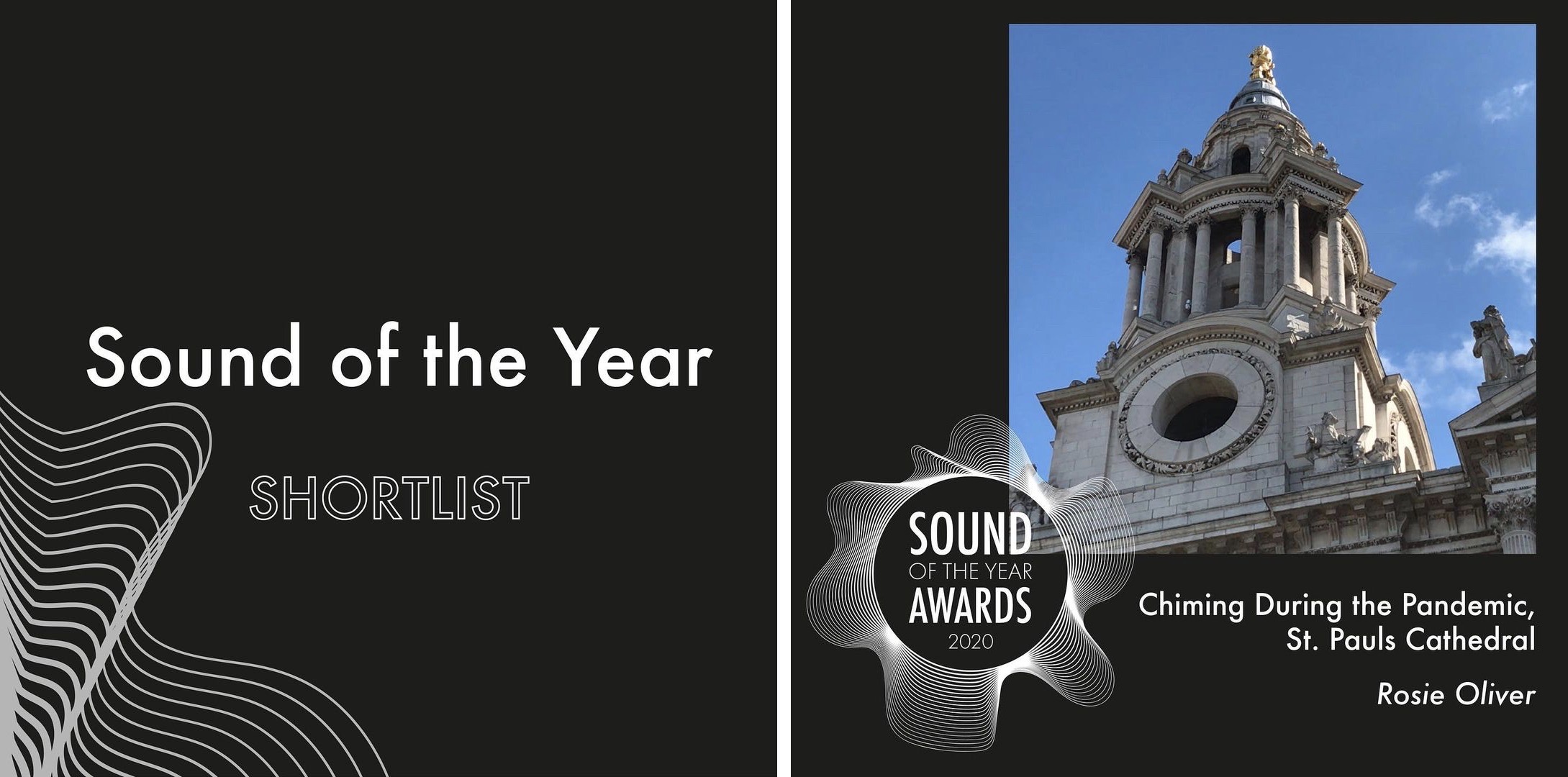 I was thrilled that a recording I made last September of St Paul's Cathedral's bells was shortlisted for Sound of the Year 2020! It's a newly launched 'celebration of everyday sound (not music) in all its forms', presented by the Museum of Sound in partnership with The New BBC Radiophonic Workshop.
I spotted the awards on social media in January and thought my recording would be worth entering for what it said about the impact of coronavirus on London's soundscape. You can listen and read about it in my post Chiming During the Pandemic. In a nutshell, it's of just six of the Cathedral's bells quietly 'chiming' for the Sunday 11.30am service using an 'Ellacombe apparatus'. I made the recording because I was amazed at how different it sounded to the usually exuberant twelve bells rung by ringers rotating them full circle on wheels – a sound we listen to on The London Ear. Not only were the bells strangely subdued and slow but also there was a striking lack of surrounding noise in the half-abandoned City. I made contact with the person who was chiming that day who told me about the sense of lonely disconnectedness he felt from within the bell tower. I was very moved by this as it seemed so much a condition of our Covid times.
The shortlist was featured on Radio 3's Late Junction show last Friday where they announced the winner. Alongside my recording were ones from the Clap for Carers in London, the Women's Strike in Poland (against the tightening of anti-abortion laws) and the Black Lives Matter protests in North America. Mine didn't win, but it was wonderful to hear it played on live radio. The chief judge, composer Matthew Herbert, commented that the judges were impressed how it captured 'a very particular moment when a kind of stillness emerged in our cities'. The presenter Verity Sharp described it as a 'metaphor for a socially isolated year'. The ultimate honour of Sound of the Year 2020 went to two hugely powerful Black Lives Matter recordings: one of demonstrators in Vancouver and the other of half-comprehensible snippets from intercepted police radio communications during protests in New York.  You can listen to the feature on BBC Sounds until 1st May.
I'll be leading The London Ear again on Sunday 23rd May and 13th June. It'll be a chance to listen live to the bells – whether they are being chimed with the Ellacombe apparatus or (if social distancing measures have relaxed enough) being rung like they used to. More details and booking links here.