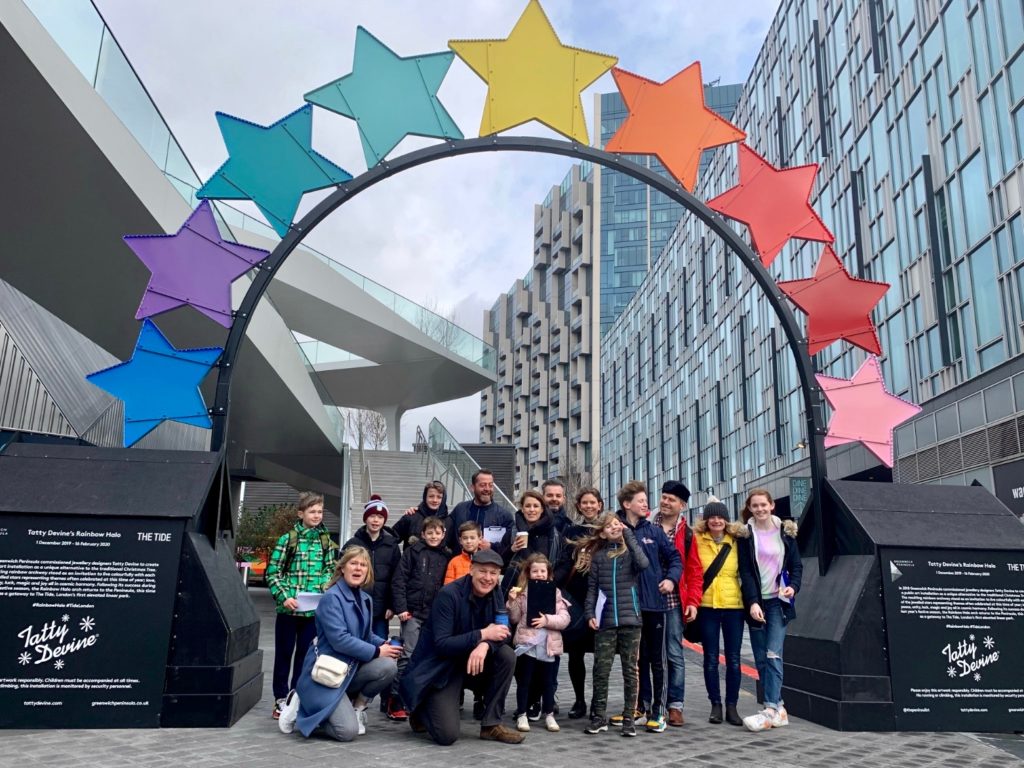 It was a real treat to launch our new tour Trinity Buoy Wharf and Secrets of the Docks with this lovely group of families last Saturday. It's a walk that explores the twists and turns of the Thames round North Greenwich peninsula, and the ebbs and flows of water, people and industry.
The group photo was taken at the start by North Greenwich tube station. After heading up and along the raised walkway to the Thames, we boarded cable cars for a bird's eye view of this great bend in the river. From there we explored the docks and Bow Creek. It's a surprising patchwork of land cut through by water, flyovers and railway lines. Seemingly every inch is now being redeveloped on a massive scale. As we walked past cranes, skyscrapers and marketing suites, we uncovered the area's rich history of industry, trade and seafaring. Trinity Buoy Wharf, a creative hub and delightful mix of Victorian workshops and shipping containers, made the perfect place to stop for lunch. It being the weekend we were able to climb to the top of London's only lighthouse and immerse ourselves in  Longplayer – a 1000 year long music composition – whilst the river swirled around us.
Here's what two of the parents in the group had to say about the day:
Thank you Rosie, for taking us all on such a fascinating, surprising, and unusual walk on Saturday – everyone (from the age of 6-56!) thoroughly enjoyed every moment. Such a treat to explore such unexpected and exciting backwaters of London along the Thames, and to be able to put all the new developments, ventures and initiatives into the context of the history of London and the river. Highly recommended – a really unforgettable way to spend a Saturday.

Loved it. Having lived in London for 25 years it made me realise how much I didn't know about the city. Rosie knits together all the disparate strands so well and is wonderful company. It was a delightful way to spend a few hours on a Saturday. Heartily recommend it.
The tour is available for private groups to book, be that families with kids, friends or clubs. If you're interested in arranging this, we'd love to hear from you.